Montana state government adds almost 1,000 full-time employees since 2004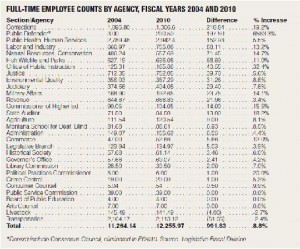 January 31, 2011 5:45 am
•
HELENA - State government has hired almost 1,000 more full-time employees than it had in fiscal 2004 for an increase of almost 9 percent over six years, a legislative report shows.
At the request of the House Appropriations Committee, the Legislative Fiscal Division recently compared the number of full-time equivalent employees (FTEs) from fiscal 2004, began July 1, 2004, and fiscal 2010, the current budget year that ends June 30.
An FTE is one full-time worker. So two half-time state employees would count as one FTE.
The FTEs increased from 11,264 in fiscal 2004 to 12,256 in fiscal 2010, for an increase of 992 or 8.8 percent.
The report doesn't differentiate between employees who are paid for by the state general fund, federal funds or special revenues, such gasoline taxes or fishing and hunting license fees.
Nor does it break down which employees were hired by agencies under the governor's control and which were hired by other state elected officials or other branches of government.
Gov. Brian Schweitzer has been governor for all but the first six months of the period studied in the comparison.
***
A related report by the Legislative Fiscal Division shows that the average state employee salary has increased from $35,286 in fiscal 2004 to $44,590 in fiscal 2010 for an increase of 26.4 percent.
Average total compensation, which includes salary and the state's share of insurance premiums and pensions for state workers, has gone from $47,626 in fiscal 2004 to $61,663 for an increase of 29.5 percent.
"It's something we asked for because we're constantly barraged about all the new FTEs and the increased costs," said House Appropriations Chairman Walter McNutt, R-Sidney.
He said the breakdown in FTE growth should be valuable to legislators.
McNutt voiced concern over the increase, saying: "We're still a state of less than a million population. It seemed to me like an extraordinary number of FTEs that we've added to government."
"We're trying to find out who pays contributions to our state pension and health care premiums and what effect it has on us being actuarially unsound or under funded (for the pensions," McNutt added. "It has to lend to the problem, no matter who pays for it."
He said the Appropriations Committee, while not trying to be punitive, is scrutinizing budgets to see whether all the current employees are needed.
Schweitzer's budget director, David Ewer, said FTEs are created and funded by the Legislature as part of the appropriations process.
"We don't create them," he said. "We have to add personnel."
Ewer disputed whether the FTE growth was excessive.
He noted the growth rate for the people employed directly in the governor's office was only 2.4 percent.
The largest number of FTE increases came in the Department of Corrections at about 211, followed by the Office of Public Defender at 198 and Department of Public Health and Human Services at 154.
In terms of percentage growth, the Office of Public Defender led the way with an increase topping 6,500 percent.
The 197.5 FTEs added to the Office of Public Defender came after the Legislature created a new state public defender system to replace what had been a county-run defender program. The new system, in effect since mid-2006, was formed after the American Civil Liberties Union of Montana sued the state challenging the adequacy of legal representation in the former system.
The next largest percentage FTE growth came from the Office of Public Instruction, with 32.5 percent. Most were funded by federal dollars.
Senate Finance and Claims Chairman Dave Lewis, R-Helena, said he wasn't surprised by the FTE increases in Corrections and the Office of Public Defender, calling that combination "a growth industry."
"I'm surprised at some of the other ones," he said. "Obviously, we'll be reviewing them as we go through the budget."
He said budget committees also will be reviewing currently authorized but vacant FTE slots and deleting them.
***
The only agencies to cut employees during the period were the Transportation Department, which has 51 fewer employees than it did six years ago, and Livestock Department, which cut four FTEs.
House Minority Leader Jon Sesso, D-Butte, who was Appropriations chairman in 2009, said he thought the report was "really revealing" in showing where the increases are.
"I look at the chart and can almost remember the legislation that we passed that helped move Montana forward," Sesso said.
Sesso recalled that a number of the increased FTEs in Corrections were to staff new programs that actually save money in the long run by treating meth addicts instead of imprisoning them. About 50 FTEs added in Corrections are for probation and parole.
He said the department has gone to an approach where 80 percent of offenders are treated through community-based programs, while 20 percent are incarcerated in prisons.
Sesso said the Revenue Department's increase in 22 FTEs has been to beef up tax compliance efforts. Every dollar spent on audits and compliance reaps many times the cost in additional tax collections, he said.
State government's largest department, Public Health and Human Services, has increased by nearly 153 FTEs. Sesso attributed it to the increased demand for these services in tough times along with the voter-passed Health Montana Kids initiative that expanded the Children's Health Insurance Plan.
FTE comparisons for state university system campuses are not included in report, although it does cover the FTEs in the commissioner of higher education and guaranteed student loan programs.